Wishing you, our VIPs, a joyous holiday! Principal Foster & Assistant Principal Lee

Good afternoon 8th grade Patriot Partners: 8thGrade Placement Testing A third placement testing day for our 8thGrade had been scheduled for Saturday, December 5, 2020. But due to the rising concerns of COVID-19 and in an effort to keep our families and staff safe, we have decided to postpone the final testing day until it is safer to do so. The placement test scores are just one of several metrics the district uses to place students. Other metrics include grades, NWEA scores, and teacher recommendations. The new test date will be Saturday, January 23, 2021. The deadline to sign up for the 8th-grade testing is Monday, November 30th. There are only 120 seats available. Please use the link below to register:
https://forms.gle/8JyGxSKZktTrfct5A
Also, please see flyer attached for the 12/15 8th Grade Parent Meeting with Rich 227.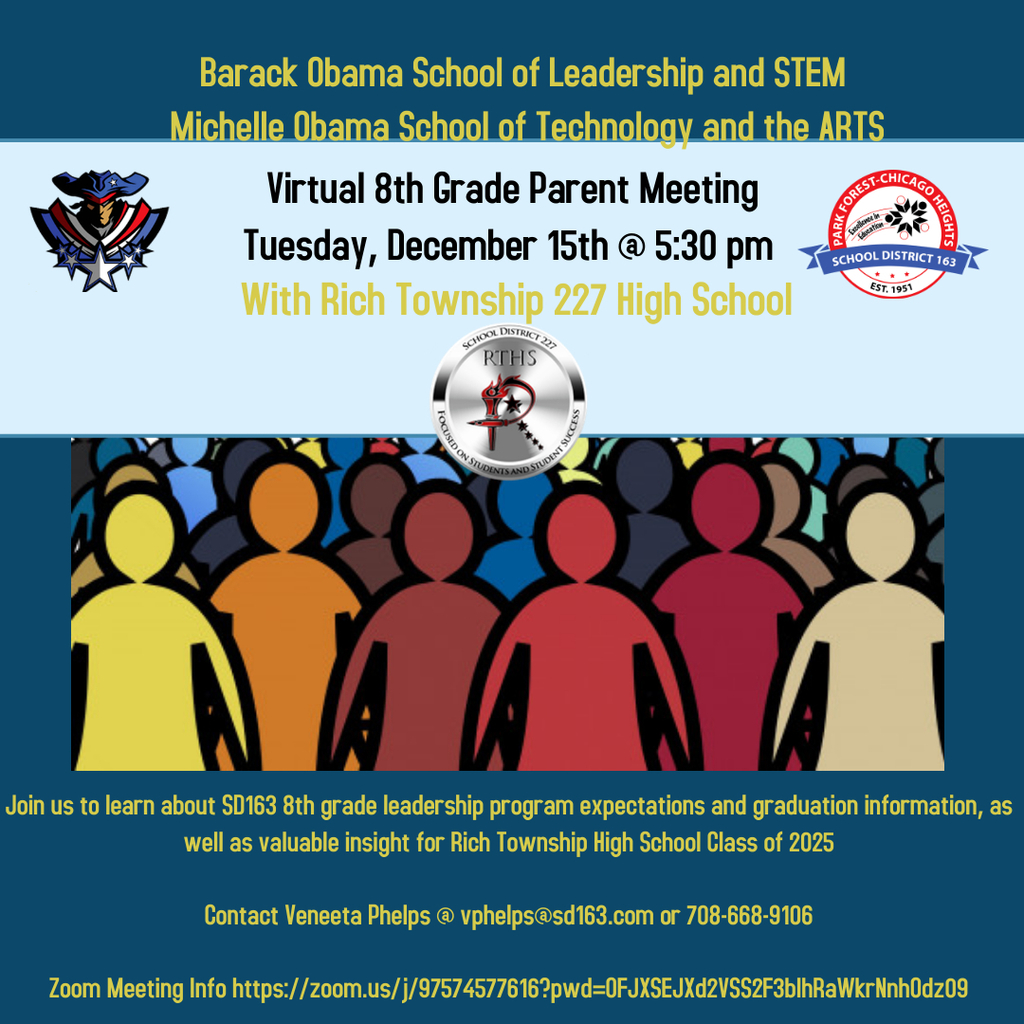 11/23 Principal Post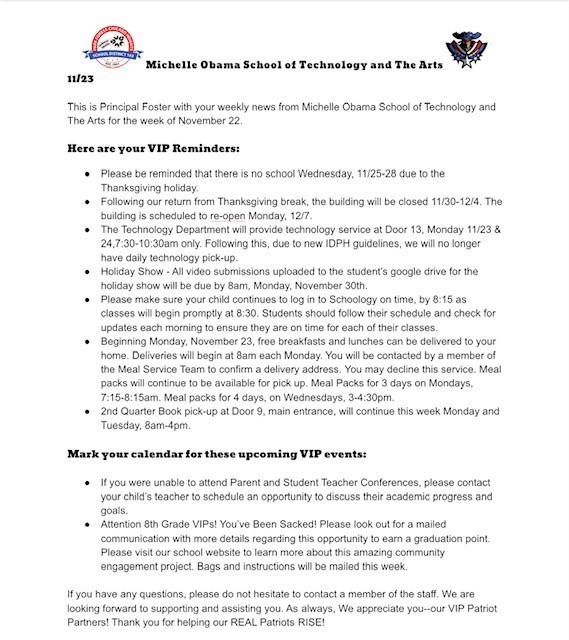 We in school district 163 understand that these times can be rough on our families. We have created a Community Resource Guide that provides resources for your families needs. Please visit our Parent Resource Page on our district website for more information.
Good evening parents, Tomorrow is an early dismissal. Children should log in to their homeroom by 8:30 AM and classes will dismiss at 11:55 AM for lunch. Children should spend the afternoon making up work. Remember, we only have school on Monday and Tuesday next week.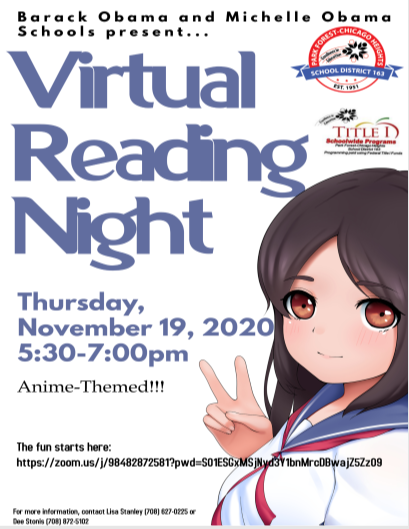 11/18 Meal packs are available!

Week of 11/15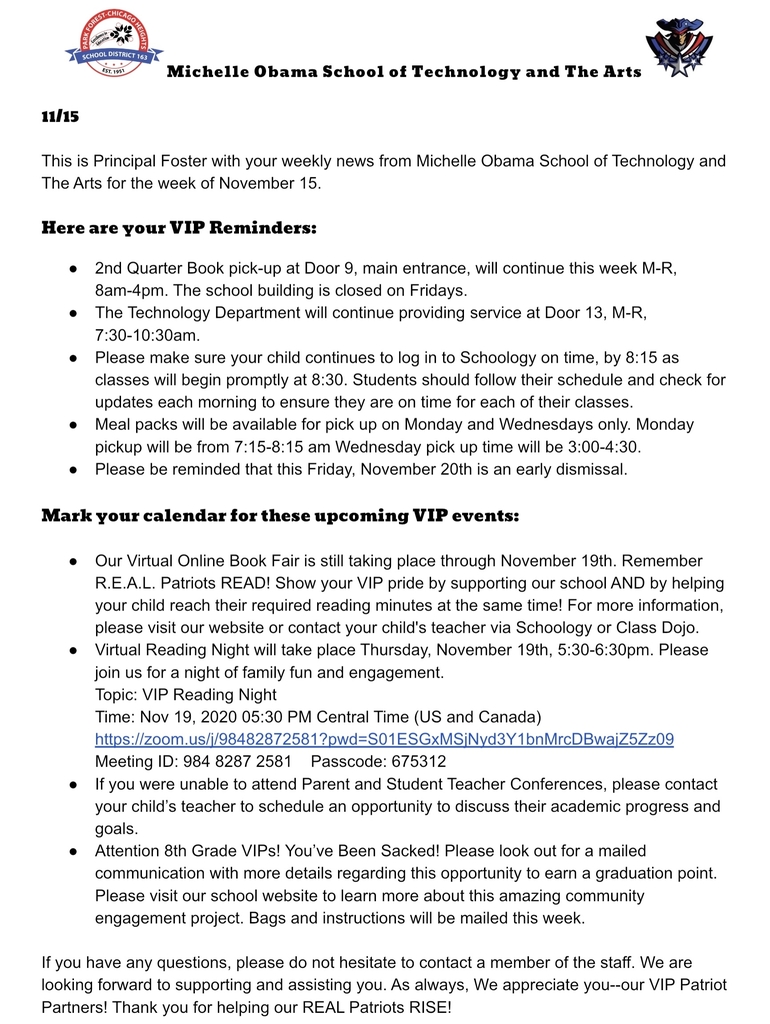 Join us 11/6-19 for our virtual Scholastic Book Fair.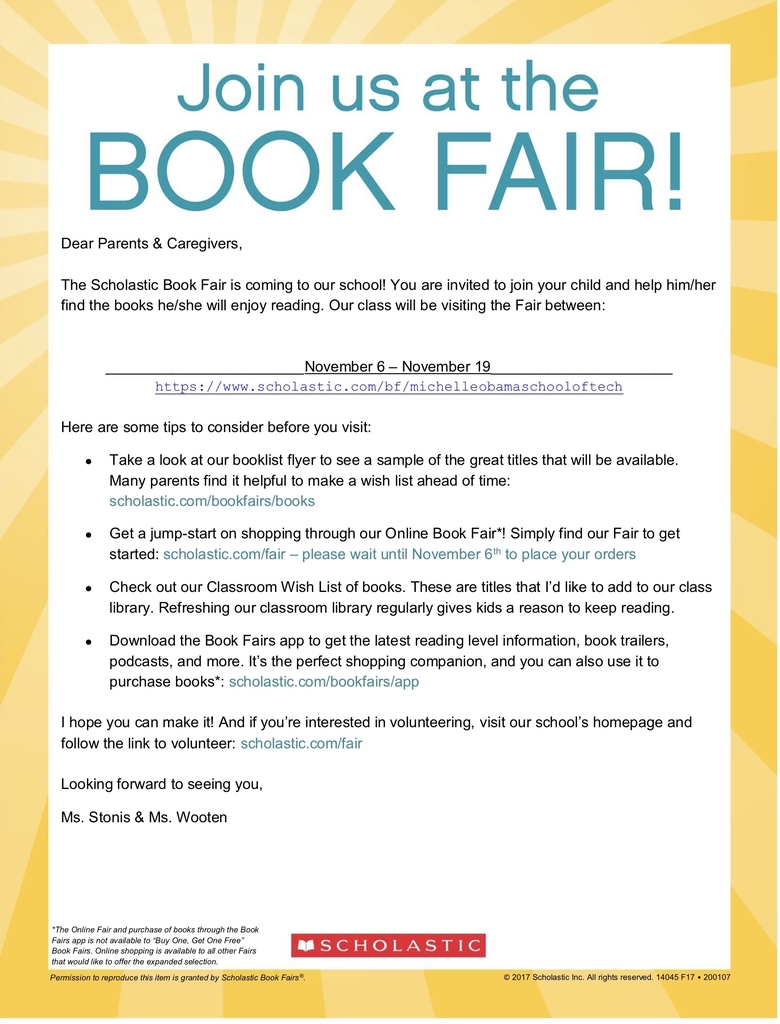 Happy Sunday VIP Patriot Partners! 11/1/20 Weekly Reminders: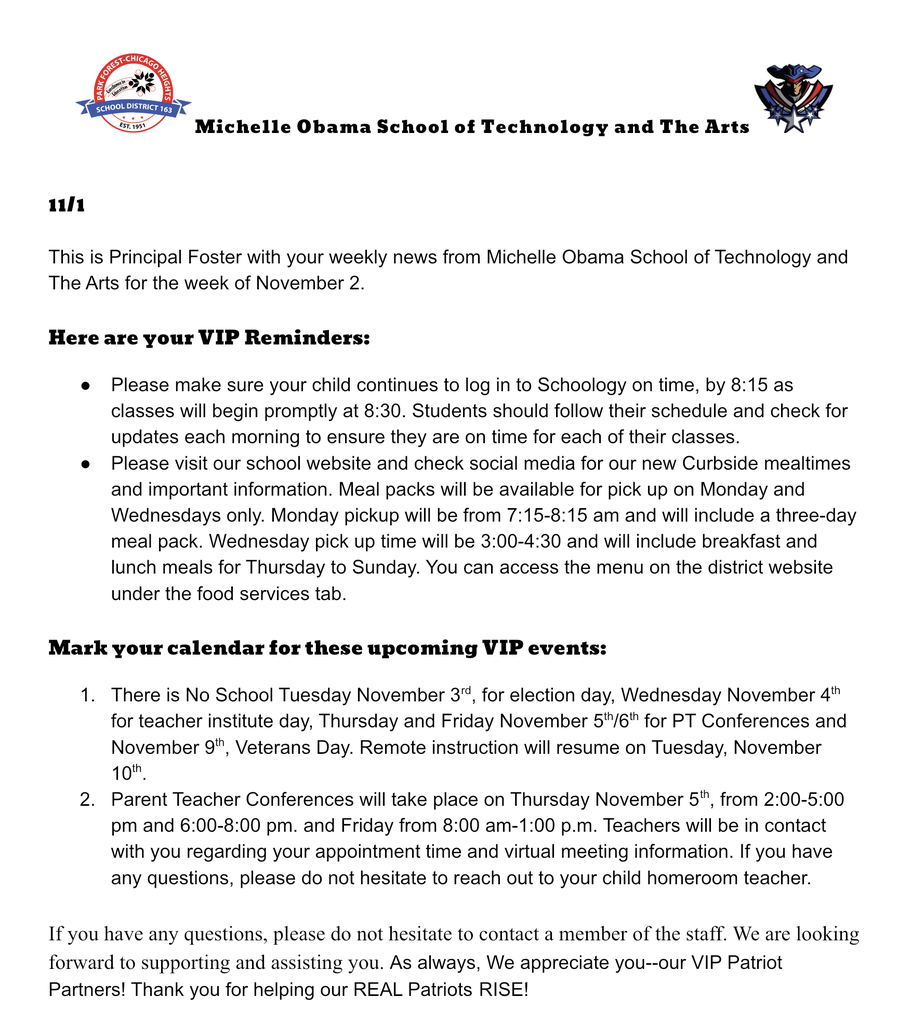 Join us for the premier of Michelle Obama School's virtual art show "Understanding the Arts World" tonight at 7PM! See you soon:
https://youtu.be/L1nWp6LBsAs
Good Morning SD163 Family, Please note that tomorrow we will not have technology pickup. Technology pickup will resume on Thursday from 7:30-10:30AM and again from 1:00-4:00PM. If you have any questions, please contact the main office.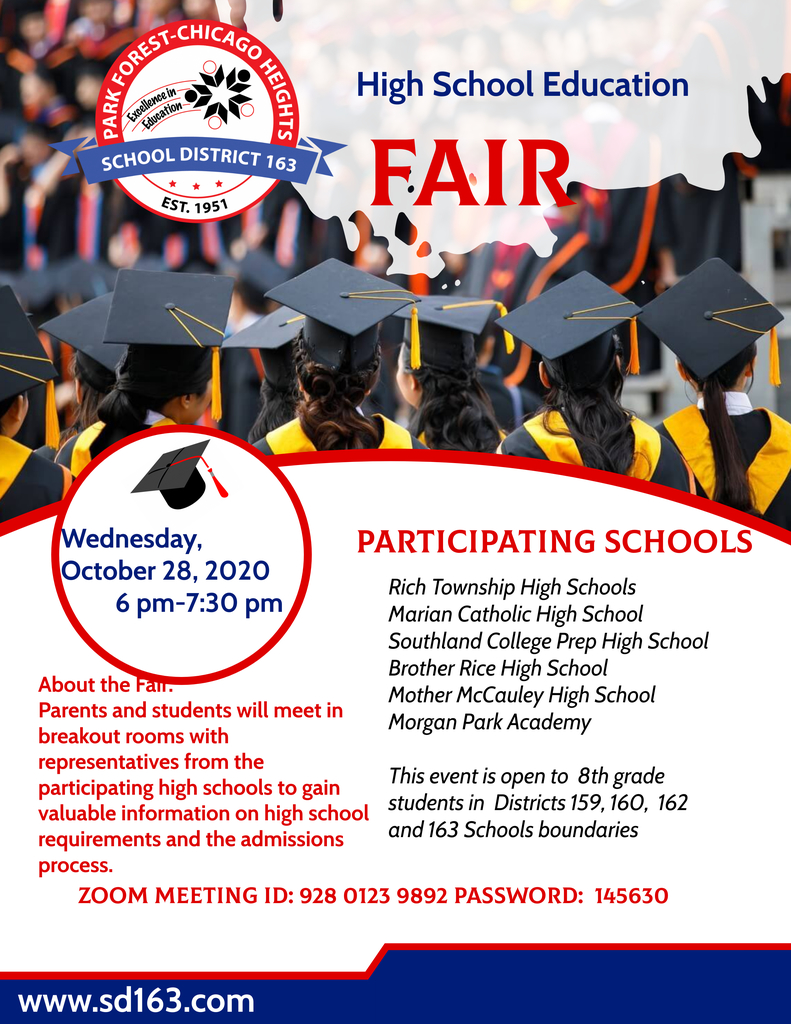 Park Forest Trunk or Treat Family Event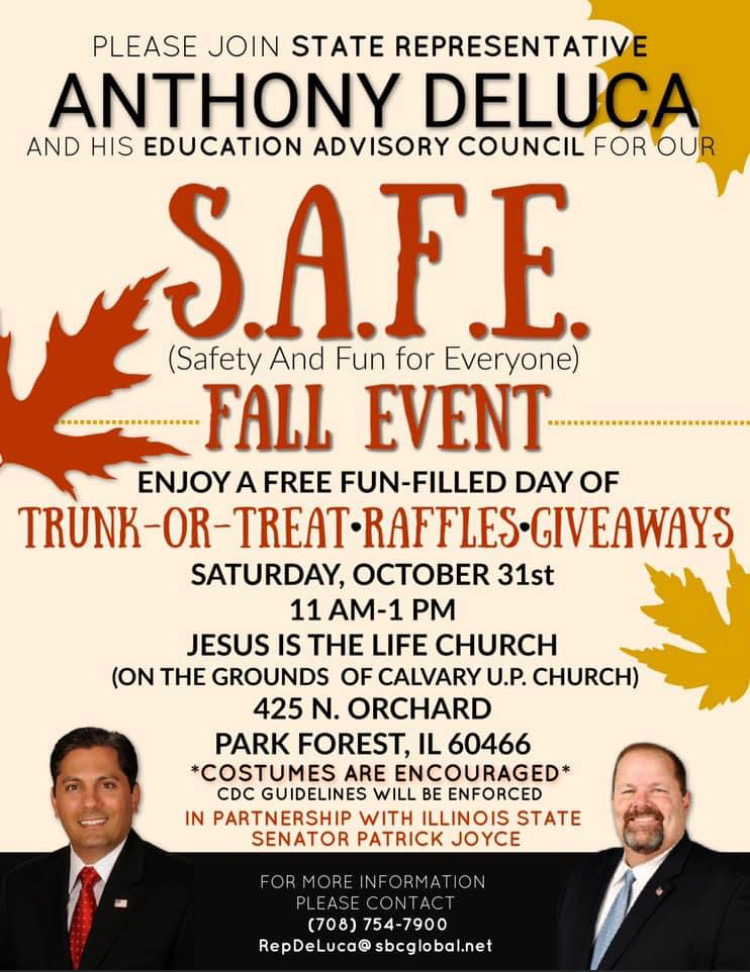 Are you up for a challenge? Participate in you Ball in the Fall Social Media Challenge. Follow the steps listed in the flyer. Winners will receive dinner delivered to their homes.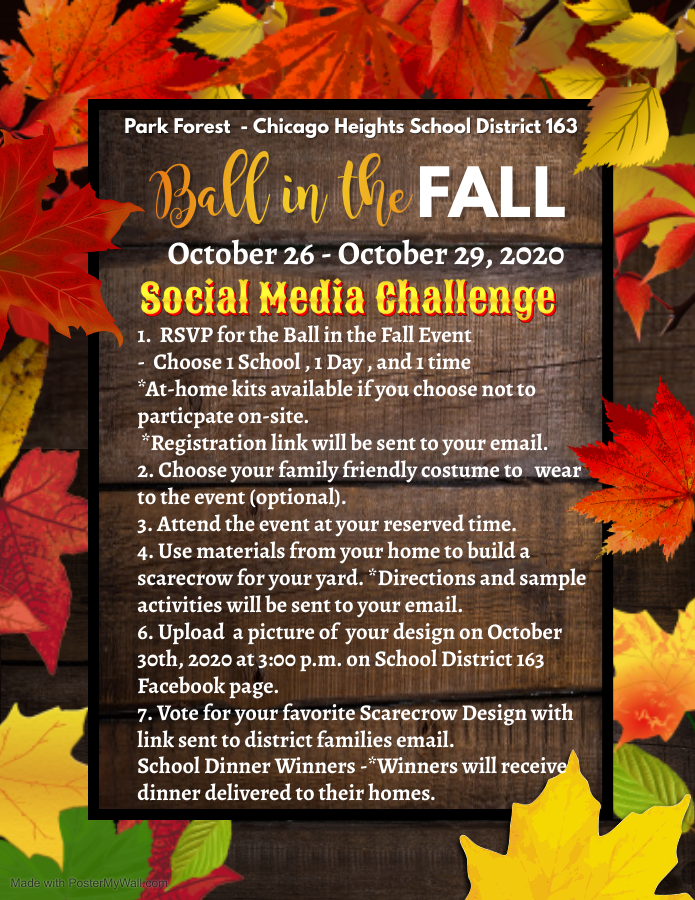 Please join us for "Ball in the Fall"! An in-person event to bring our Patriot Partners together. Please see the flier attached for more information. See you soon!
Did you know that our school typically serves over 2500 meals per day? Big thank you to Preferred Meals.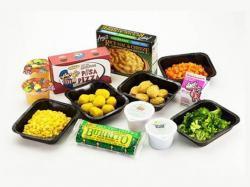 MOSVIP Spirit Week is next week, 10/19-10/23! Join in the virtual fun by dressing up for each day to show your VIP spirit!
Did you know this week is National School Lunch Week? Today we honor our wonderful cafeteria staff for the amazing job they have done in ensuring our students are provided nutritious meals. Hats off to Ms. Patty and Ms. Alicia!!!