Attention School District 163 families! We are excited to announce that Bernie's Book Bank is sponsoring each district family with a family pack full of books. These books are designed to pique the interest of families with Prek- 6th grade age students. Book packs can be picked up at 21st Century Primary School from 9-11 am June 8th (TODAY) and 9th. Don't miss out. Come and retrieve your family book packs!


The Park Forest-Chicago Heights District 163 Virtual Graduation 2020 will air on the cable access channel at 7 PM and 9 PM every night (except for Mondays & Wednesdays) for the next couple of weeks. The cable access channel in Park Forest is channel 4 for Comcast subscribers and channel 99 for AT&T U-verse subscribers. Again, congratulations to the Class of 2020. Enjoy!

Hello 8th Grade Families. 8th grade report cards can be viewed via family access on Skyward. Additionally, diplomas and professional photos will be mailed as soon as they are finalized.

Hello SD 163 Families. Today at 2 p.m. the Student Services Office will host a virtual Timely and Meaningful Consultation meeting. If you are a parent of a home schooled student who resides in District 163 and would like to learn more about our special education services please join us. Click on this link for more information:
https://5il.co/gqup

Hello SD 163 Families. Please see click on the link to view flyer about the last day of school:
https://5il.co/gshs

Hello SD 163 Families. Please refer to the district website Graduation Live Stream to view the virtual graduation ceremony for District 163 Class of 2020 or click here:
https://youtu.be/igzpqaNb6_Y

Hello 8th grade Families! Tomorrow is Graduation Day and we are looking forward to seeing our Barack Obama graduates at 2:45 and Michelle Obama graduates at 4:15 p.m. We will begin the festivities at Central Park. Attached are the directions on how to log onto the virtual graduation which will take place at 7 p.m.
https://5il.co/gpha

Hello District 163 Families! This message is being sent to communicate that on Thursday and Friday, May 21-22 teachers will be engaged in remote learning planning days. During these planning days, teachers will be unavailable for interactive remote learning instruction. We encourage families to use these 2 days to complete remote learning packets, explore educational websites, and practice reading and math fact fluency. Additionally, we will not have remote learning on Monday, May 25th in observance of the Memorial Day Holiday. We will welcome our families back to our remote learning environments on Tuesday, May 26, 2020. Stay safe and healthy!


Check out MOSTA with their teacher shout out video!
https://youtu.be/i85_mP8Nkwo
Don't forget to share and subscribe to our YouTube channel! #MOSTA #engagement #Super163 #elevatingexcellence

Hello District 163, please see the Remote Learning Plan Updates for important information. Visit sd163.com School Closure Updates. Reminder April 8th and April 9th are teacher planning days. These will not be instructional days for students. Please visit the Resource page for student activities.

Good morning SD 163 Community! We've updated the Curbside Grab and Go dates and time. Please see flyer or visit our district website for more information. #elevatingexcellence #Super163!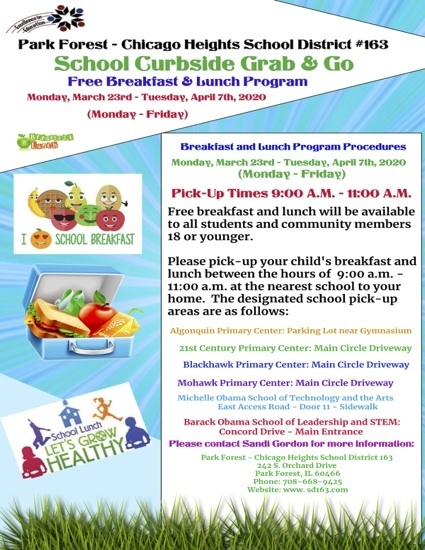 Good afternoon SD 163 Community. Please make sure you are checking our District Website (sd163.com) for continuous updates for student information in the News section. Please stay safe. #elevatingexcellence #Super163

In an effort to include all stakeholders in selecting District 227's new mascot, we would like to discuss the possibility of sharing our new mascot voting poll with current 8th-graders and other students attending schools in District 163. Last month, our district launched a poll to select the district's new mascot to students, staff, alumni, and community members. The poll will close on Friday, March 13. Click the link to vote:
http://bit.ly/227MascotVoting

Just a friendly reminder! We have an early dismissal on TOMORROW, Thursday March 12th! Students will get out at 12:30 PM.

We are proud to share scientific excellence demonstrated by 7th & 8th graders Jeirmyri Liddell (State alternate) and Logan Kundla (State) at the Regional Science Fair. We congratulate our students for their commitment to academics! #elevatingexcellence #super163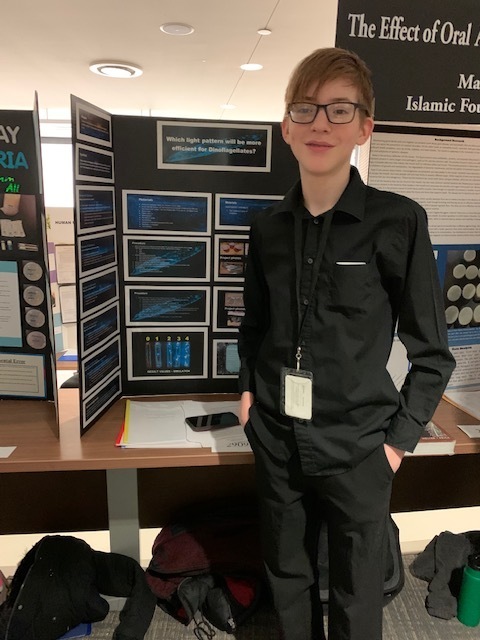 We are proud to share 1st place excellence demonstrated by 7th & 8th graders Kamari Beatty and Sofia Sciacca at the Regional Science Fair. We congratulate our students for their commitment to academics! Sofia will be advancing to the State Science Fair on May 2nd! #super163


Highlights from MOSTA's Black History Program last week: "Decades" #MOSTA #elevatingexcellence #Super163 #blackhistorymonth