EDIT MAIN
X-STEAM: A gymnasium for the mind where students will be immersed in exercises in STEAM education, innovative learning experiences and exploratory spaces to wonder and create!
Mission Statement:
Park Forest Chicago-Heights School District 163 is committed to meeting the needs of our diverse student body and to promoting high educational standards by:
Differentiating instruction
Nurturing active, strategic and higher level thinking skills
Inspiring a love of lifelong learning

Belief Statement:
We, the community and staff of the Park Forest-Chicago Heights School District 163, believe:
All Children want to and can learn.
Education empowers the student to be a productive member of society.
High academic expectations are essential for excellence.
Children are the central focus of the district's educational processes and decisions.
Respecting each individual's worth is vital to a positive educational climate.
The multi-racial and multi-cultural experience is essential for the development of the total person and community.
A positive educational climate fosters high expectations and performance for all.
Each individual has a responsibility to contribute to a positive learning environment.
Education is a partnership based on the participation of the students, parents, staff and community.
Students are influenced by adult role models.
"We believe that all student must become great thinkers, great communicators, and be able to express their individuality! And, through perseverance and hard-work, their possibilities are endless."
X-STEAM After School Program Components
The following program components are monitored on a consistent basis to ensure students are meeting the established goals.
Program Goals:
provide stimulating, innovative and exciting learning experiences
positively impact student academic achievement in reading and math
engage students in enriching experiences
promote positive social-emotional development
foster family investment
provide career development pathway experiences
Attendance in the following:
Homework session
Mandatory daily attendance in the following areas
Reading and Math Academic Tutorial class
Tuesday and Friday Technology and Enrichment classes
Independent novel reading session
Math fact fluency session
Reading and Math Academic Tutorial Assessment Data
Beginning of the year, middle of the year and end of year benchmark testing
Pre-test
Post-test
X-STEAM Student progress reports for each session
PARCC, Stop, Drop, and Bop dance with B.E.R.TH.A.S the BEE
PARCC, Stop, Drop and Bop Dance video at the 21st CCLC Conference
Enrichment Classes
Classes will focus on STEAM (science, technology, engineering, arts and/or mathematics)
Classes will focus on career development pathways
Classes will extend learning in an interactive and fun way.
Students will experience multiple enrichment activities during the X-STEAM program
Parents of X-STEAM students will sign a commitment insuring their child will regularly attend and participate in the X-STEAM program.
X-STEAM Discipline Banking
Positive Behavior Incentive
Procedures
Establish Classroom Norms

Staff and Students agree upon classroom rules and CONSequences
If this happens…
Then this should happen…

X-STEAM Banking Incentives

Pay to Play
Bi-Weekly Shopping Savings Account

Bonus Bucks

Classroom participation
Reading log completion 60-120mins. Daily
Peer tutoring
Minute to Win it completion

X-STEAM Banking Expectations

WALLETS kept by students

Students receive $5.00 daily

Bankruptcy

Send student to the Teller/office with a referral
Students cannot remain in the classroom bankrupt

Major Infractions -All major infractions are reported to the Teller/Site Coordinator.
Minor Infractions
Minor infractions- $1.00 withdrawals made from the student's account (wallets) based on inappropriate behavior, repeated non-compliance and not following direction the first time given.

Student sent to the office with a referral
Incentives
Pay to Play Open Gym

Fridays
Talent Tuesday
Basketball/Cheerleading
Battle the Boss

Bi-Weekly Shopping Friday's

Savings Accounts Books must be signed by Teacher
How are Students Selected for XSTEAM?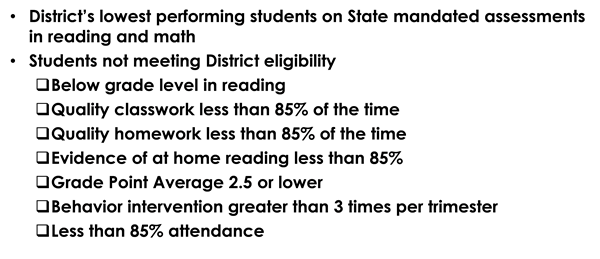 Transportation:
Transportation will be provided for all X-STEAM students. Students will be dropped as close to their door as possible. An adult needs to be present to meet their child. If no adult is there to meet the child, the child will be returned to 21st Century Primary Center address is 240 So. Orchard Dr. Park Forest, Il. 60466 708-668-9490. Parents/guardians will then need to pick up students from 21st Century Primary Center with a valid driver's license or State I.D. Note – any student returned to 21st Century more than three times will be removed from the X-STEAM program and subject to possible bus fees. In addition, parents may choose to pick up students by 5:15 p.m., however ALL students will be placed on the school bus at 5:30 p.m. Parents are requested to discuss these rules with all children.
Follow directions the first time they are given.
Remain seated at all times on the bus.
Maintain self-control and good behavior on the bus.
Form lines away from the curb at bus stops.
Speak in moderate tones.
Respect all property on the bus.
Cross ten feet in front of the bus when students must go to the other side of the street.
Any questions concerning the bus service should be directed to the transportation office 708-668-9425 or Project Manager, Renee Hawthorne at 708-668-9440/9490.
Click the above image to "like" us on Facebook!