Hello School District 163 Families-
You're invited to "A Taste of Thanksgiving" On Monday, November 23rd at 1:30 p.m. and Tuesday, November 24th at 5:00 p.m. Join the cooking party in the kitchen of your favorite chef via virtual links. Please see the recipe book attached. On pages 3 -9 you will find recipes and chefs. Choose your recipe, get your ingredients ready and join the party. We look forward to cooking with you!
Cook along with the chefs during the Zoom Cooking Party.

Monday, November 23rd -- 1:30 p.m.
Dr. Khari Grant - Green Bean Casserole
Ms. Judy Hawthorne - Millionaire Pie
Dr. Caletha White - Grandma's Pound Cake
Tuesday, November 24th - 5:00 p.m.
Dr. Regina Nottke's Macaroni and Cheese
Mr. T.J. Lee's Easy French Toast Casserole
Ms. Renee Hawthorne's Sweet Potato Pie
Ms. McCray 's Cornbread

***Zoom Links for "A Taste of Thanksgiving" will be sent to all district families the morning of the event.

We look forward to your participation in the event and wish everyone a safe, relaxing, and fun-filled Thanksgiving holiday!!!
****Click link to access: Thanksgiving Cookbook.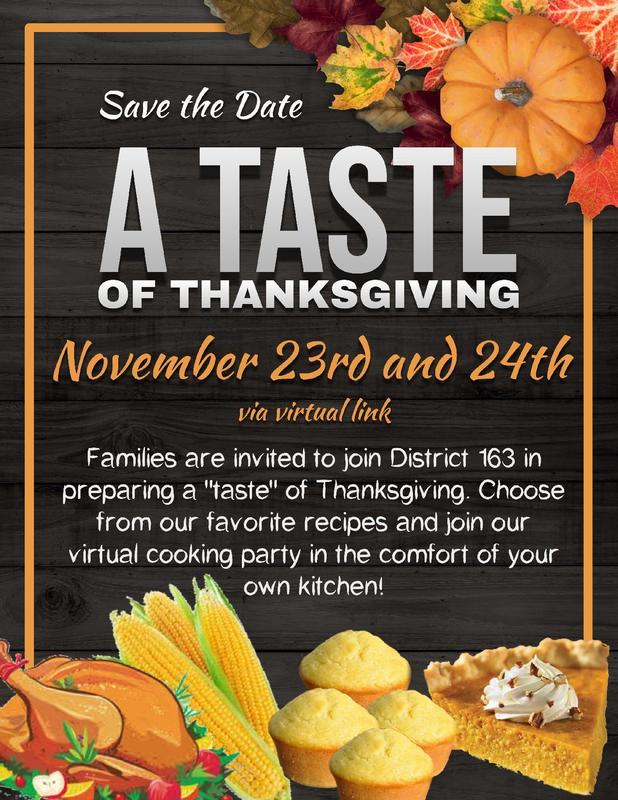 To download flyer, click here.